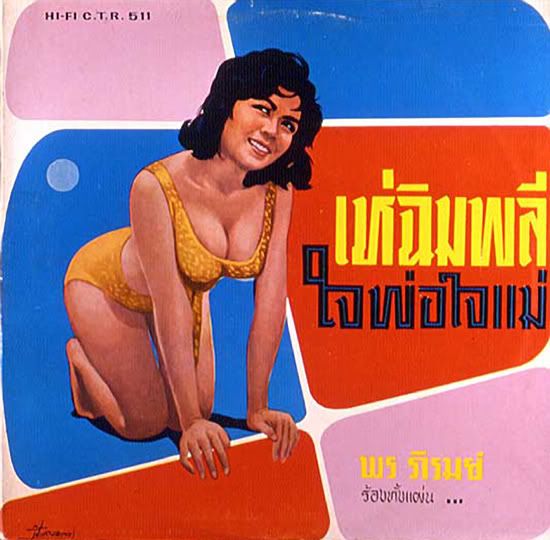 Many years ago on a "Hail Mary" trip to Chicago, Sean and I beared the winter winds of Lake Michigan to see
Raun
. Between gawking at just about everything (the stores, the parks, the lake, the architecture, food, people...), we found ourselves in a record store of epic proportions and variety. It's not uncommon to find a shelf of "employee favs," or something like that, and I took a chance purchasing an album from it. And thus began my affair with a very unique genre, with said purchase of Siamese Soul: Thai Pop Spectacular.
From an
online review
: "Siam/Thailand has never been colonized by Western nations. But in the 20th century, it was a crossroads of cold war activity. So modern mor lam and luk thung genres of Thai music retain old traditions such as soaring vocals with pronounced vibrato and subject matter of village life and personal relationships from the point of view of rural people. At the same time, local musicians have heard the music American military personnel favored and imitated this, providing entertainment for the Americans far from home and new waves of tourists to follow."
Purely from a melodic standpoint, the songs are funky and exotic, but when I dug deeper into the lyrics I felt a disconnect, a mostly comical one. The first track, "Bong Ja Bong," literally translates to "Bong, Oh Bong": a sort of love song to relaxation and the singer's dear water pipe. "E-Saew Tam Punha Huajai (Advice Column for Love Troubles)," offers advice to a woman who has fallen for an 80-year-old man ... his son ... and his nephew. An interesting topic for pop music in America, but maybe not in Siam.
If Siamese Soul doesn't wet your whistle, then check out
มนต์รักเพลงไทย
for more.